How to Get Your Music Heard

If you want to get on the radio, start with college radio first.
College Radio Submissions
College Radio is where it is at for up-and-coming artists who are trying to make their mark and build a fanbase that will not only like their music but be able to experience it for themselves.
Most of the time, college radio stations are managed by students from a college, university, or other educational institution. While many people think college radio is a poor mans music promotion tool, you'd be a fool to think that college radio doesn't have an impact on a local level.
Programming may be generated or produced entirely by students, or it may involve program contributions from the community in which the radio station is located. This is a great benefit for local artists who we suggest should start growing a local fanbase, and what better way to do that than with a radio station that is programmed by local students from the surrounding cities.
How Does College Radio Work?
Having your music played on the radio may significantly influence your career, even if it's college radio.
Therefore, it's critical to contact radio stations correctly to offer yourself the best chance of making it onto the airways. There are a lot of benefits of started your music promotion and marketing journey at the college radio level and one of those benefits is a lot less payola and music industry politics.
College radio works like commercial radio: you bring them your music, and if they like it, they play it (let's be real, commercial radio is NOT like that anymore). Your best bet is to connect with college radio because they still do things the old way. By the old way I mean if your music is good, or if you are persistent enough you can convince them to put your song on the air. Try that at your local iHeartRadio and see how far that takes you.
When presenting yourself and your music to potential college radio, you should always attempt to put your best foot forward.
The Program Director Is Who You Need
In this case, the person you want to get the attention of is the station's Program Director. Many stations will post the Program Director's name in their college radio website's 'contact' area. If you don't find it there, take initiative and give them a call. College radio stations are usually small and short staffed so you'll always a person or two away from speaking directly with the program director.
Be patient, ensure your tracks are close to radio ready and don't become too frustrated if you don't get the desired outcomes immediately. Make sure you spend the time, effort, and money to mix and master your music. Radio stations know what sounds good, so even if you or your boys think your song is the next big thing, remember that the ears of the program director are finely tuned to hear the smallest mistake. You MUST mix and master your music if you want to be taken seriously at the radio level, even college radio level.
College radio is within your reach with a bit of time, effort, and follow-up. Your audience may not be the largest, but it will be the most authentic and honest. These are the types of listeners that pay money to buy your album, pay money to go and support your local shows, and these are the types of listeners that will spearhead word of mouth about your music.
As a result, college radio is the epitome of quality over quantity. Additionally, you don't need to be a part of the college you submit music to. College radio usually supports any music that their audience will enjoy.
Here's how you can submit music to college radio!
How To Submit Music to College Radio
While this may seem glaringly obvious, the first step is ensuring your music is good enough to be played on the radio. This doesn't necessarily mean you need to work on your sound more.
It means you should make high-quality audio formats of your music to send for the best results. As we mentioned before, make sure you mix and master your music. Make sure you have radio edited versions so that there are no swear words. Some stations may have format constraints, and you may need to plan your music accordingly.
Prepare A Small Intro
The next step is giving your music, whether a single or album, a title. Additionally, you will want to prepare a small intro about yourself and your music.
This is because college radio stations require simply the most basic information about you, but you should still offer a summary of your tale. Make it compelling, moving, and honest. Talk about your struggle to make it this far and why your music means something to you. I can't tell you exactly what to say because everyone's journey is different, but what I can say is to be open and honest about where you've been and where you're going.
Please pay attention to their submission criteria and adjust the information you provide them properly to increase your chances of approval.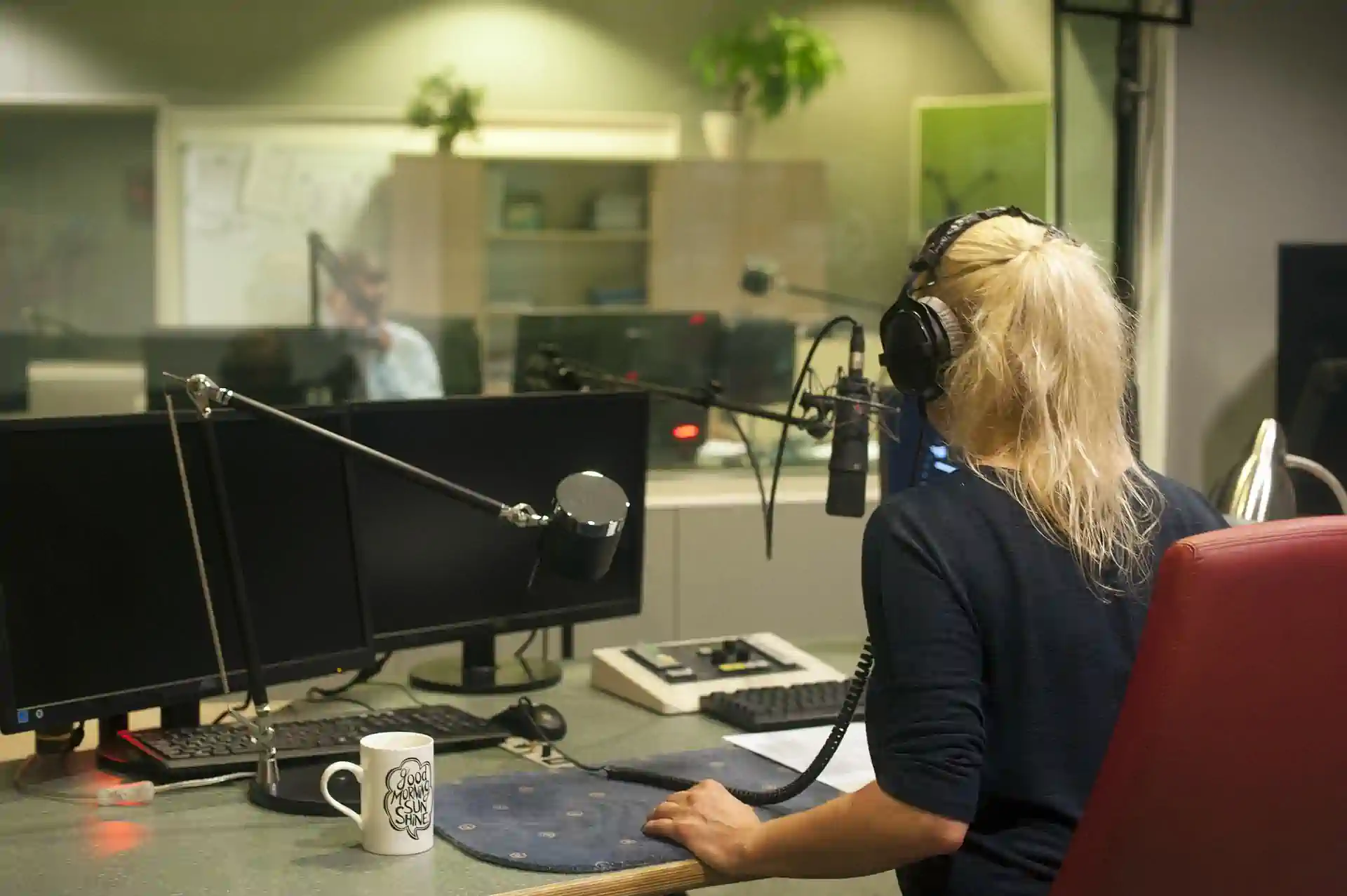 Berklee College of Music says this about Program Director position,

"Most program directors are dedicated to and inspired by the process of shaping a radio station to fulfill their vision, but this creative impulse must always be balanced with good business sense."


Berklee College makes it very clear that the job of Program Director is one of the love of music and the understanding of the music business. So that's why it's very important that you carry yourself and your music as a professional at all times and have your business in order when approaching a Program Director.
Make A List Of College Radio Stations
You should pay a visit to each station's website to see whether they play your type and genre of music and learn about their song submission procedures.
It's an excellent place to start if you can identify an artist that plays comparable music and find out where they're being played.
Also, the Internet is your friend. Use websites like Wikipedia to give you a list of every college radio station in your country. I'll do you one better and provide that list for you right here: List of college radio stations worldwide.
Popular indie music platforms and college radio

WERS is one of Emerson College's two radio stations, located in Boston, Massachusetts
WICB is a radio station licensed to serve Ithaca, New York, United States.
WASU-FM is a college radio station broadcasting an alternative music format.
WSOU is a non-commercial, college radio station. The station broadcasts from the campus of Seton Hall University in South Orange, New Jersey.
WRHU is a college radio station licensed to Hempstead, New York, owned and operated by Hofstra University and broadcasting an eclectic radio format.
WGRE is a non-commercial educational radio station licensed to serve Greencastle, Indiana, United States
Contact The Program Director
Calling in ahead of time will allow you to promote yourself as an artist and your music and help build a rapport between you and the person behind college radio music.
This is what independent radio promoters do for labels, and you're competing with them on a micro-level. This will also help you build social skills and a network that will one day come in handy.
Building a personal relationship with the program director of the radio station or the on-air personalities of the show you're targeting, is the key to getting your music played and in rotation.
Meet Tastemakers with SharePro
SharePro is the most efficient way to get your music heard by college radio stations. This verified music hub puts your music in the presence of over 350 tastemakers across the music and entertainment spectrum.

These tastemakers come from various backgrounds throughout the music industry. They give you feedback on your work within 48 hours of posting. If the tastemaker is really feeling your music, they will reach out about further potential collaborations.

Tastemakers only guarantee 25 seconds of play before providing feedback. However, the average tastemakers listen to 2:51 per song. Therefore, you are likely to receive honest and genuine feedback that will help you grow as an artist and get your music heard by record labels.

This platform also allows you to network with other artists. In show business, sometimes it's about who you know. Create a solid relationship with your peers, and promoting your music will be easier.
"There are more resources out there than ever to get your tunes heard. However, it still requires a lot of work to make it in the music business."
Follow Up
Call your contact again a few days after submitting your song to see whether it got into the rotation.
You should note that being put in the rotation does not guarantee that the college radio will play you; it is generally up to the DJs to pick when to play the music. The DJ does have to follow the program directors lead, so if you are confirmed in rotation there's a good change your music will be played eventually.
Unless you listen to each station or they keep a log on their website, you're unlikely to know if the college radio played your song. Some college radio stations however report to charting agencies that keep track of what plays on their stations. Once you land your music in rotation, I suggest you find out more about these charting agencies so you can use this information to help you secure a music manager or possibly a record deal.



Here are a few companies that track radio play worldwide:




Here are a few companies that make managing your social media a breeze.


Make use of social media




If you follow all the steps to submit your music to college radio, you will most likely have a song out in no time! Having your song added to a radio station's playlist is fantastic to post on social media.




However, don't forget to thank the radio station, and keep that station and the contacts you established there on your list since they are the most probable locations to play your future release.




It will also catch the attention of other college radio stations, who want to play your music to gain the same traction and stay up to date with the latest artists and releases.




Get Your Music Heard Today




There are plenty of recording artists in the industry today that deserve to be discovered. It's possible that you are one of those recording artists! Now all you need to do is find the best ways to market and promote your music effectively, and you're on to the next level. Try to connect with as many college radio stations as possible. When you're ready to automate some of that process you should give SharePro a try. Once you network your music successfully, the music game will open it's doors to you and your music career!
---
College Radio Stations
Submit Music To College Radio
Indie Music Promotion
Get More Plays
College Radio Submissions
Send Music To Radio
How To