How to Get Your Song Heard on the Radio

The day an artist hears their song on the radio is a milestone moment in their career.
Radio airplay is still a significant barometer in a musician's success because it offers exposure to audiences who might not have discovered the artist anywhere else. Learning how to get your song on the radio is essential for the growth of your brand.

Here are some tips on how to submit music to college radio stations, create a groundswell of support with local radio stations, and increase your radio airplay chances. Whether it's on local, national, or viral platforms, radio airplay is a must for any emerging artist.

Each avenue has some distinct requirements. Adhering to these regulations will help increase the odds of getting your song heard on the radio. Here are some tips for making your dreams become a reality.
"According to the source, there were 15,451 commercial radio stations in the United States in 2019."
How to Get Your Song Heard on the Radio
National radio is the most competitive outlet for musicians. It is incredibly challenging to get the attention of national broadcast syndicators because major labels already have their ears. The only way you will breakthrough is to create content with the same production values as that major record labels are producing.

Your work should be professional. Normalize all levels and smooth out any edits. Don't make the master sound levels aren't too hot, and be sure the background isn't drowning out the vocals (if these aren't the intentions).

You should consider getting your music critiqued by some of the most prominent tastemakers in the industry. SharePro introduces your music to proven entities in the music industry. This networking database has over 300 music professionals that can offer honest advice about your work.

Just by hearing your music, a tastemaker can help you get your foot in the door of this competitive industry. If you have excellent content, these tastemakers might even reach out about potential collaborations!

Also, make sure you promote your song. Write an official press release to shop with your track. Keep the press release precise. Make sure it captures your brand, sells the song, and name-drops any prominent talent or producers who helped bring this work of art to life.

College Radio
Young radio hosts are aspiring artists in their own right. They want to be the ones to "discover" new music and are eager to create a name for themselves in the music industry. Gain traction by gaining the attention of college radio hosts. Submit music to college radio stations to gain radio airplay.

Learning how to get your song on the radio station of local colleges is a crash course on how to sell yourself to national outlets. Treat this opportunity like it is the most significant chance you ever had. Use this experience to work on your press releases and put together an electronic press kit (EPK).

The best way to get your song played on college radio is to Google colleges within the area. See if their radio stations accept any submissions and follow their guidelines.

It's best to know what type of music the station plays or which DJ would be best suited to showcase your talents. So, give their station a listen to help personalize your pitch.
A count of select college radio stations from around the world. (2021)

United States of America - 464

United Kingdom - 73

France - 47

Nigeria - 21

Germany - 12

"In the United States these radio stations are called College radio stations, sometimes Campus radio and in the United Kingdom they are called student radio stations."
Try to create a relationship with producers. If a show is a call-in or if a station hosts an open mic, make the call or attend the show. Let the producer or DJ know they value their work.

Support local college radio stations by making song requests for other artists during A DJ's block. While you're talking to them, maximize your minutes.

Mention that you're an artist as well. Say that you have a similar vibe to the artist you requested. These types of conversations might entice the DJ to take the call off-air and learn more about your music.

Also, showing up for open mics hosted by local stations can help you get discovered. Be sure to walk up to the emcee after and thank them for the opportunity. Come prepared with any marketing materials or extra copies of your mixtape. You never know when the right ear will be in attendance!

Internet Radio
Internet radio can offer your music great exposure. Many people turn to internet radio stations in search of new music. Getting your song heard on internet radio is a great way to gain new fans.

There are plenty of internet radio stations that you can explore. Radio Airplay has a radio app that users listen to on desktop and mobile devices. You are guaranteed 100 spins in playlists of active users who like your genre. Then, you get ten spins per week for free!

Amazing Radio, which used to be Amazing Tunes, is another platform where musicians can showcase their work. This database helped Alt J, Haim, and Dua Lipa get discovered. You just have to submit your song via YouTube, Soundcloud, or Spotify onto their platform.
A count of select Internet radio stations. (2021)

Entercom owned stations - 122
Internet only radio stations - 76
BBC stations - 21
Corporate owned stations - 14
Amazing Radio also partners with CMJ, which is a college radio music festival. So, this partnership can also help get your song played on college radio.

There are also local stations that will accept music submissions. Popular local stations that accept indie music submissions include KUTX in Austin, Dublab in Los Angeles, and Radio Free Brooklyn.

Everyone likes a hometown success story. So, it's best to try and contact local radio stations first. Branch out through nearby cities before reaching out to neighboring states.
Implement Tips on How to Get Your Song on the Radio
There are many avenues to take that can increase your chances of airplay. Even making small strides towards your goal will help you realize those goals much faster. Start today by making the best music possible.

Work on polishing your art so that it sounds like it fits in a rotation with other top artists. You can earn honest feedback from proven tastemakers by joining SharePro.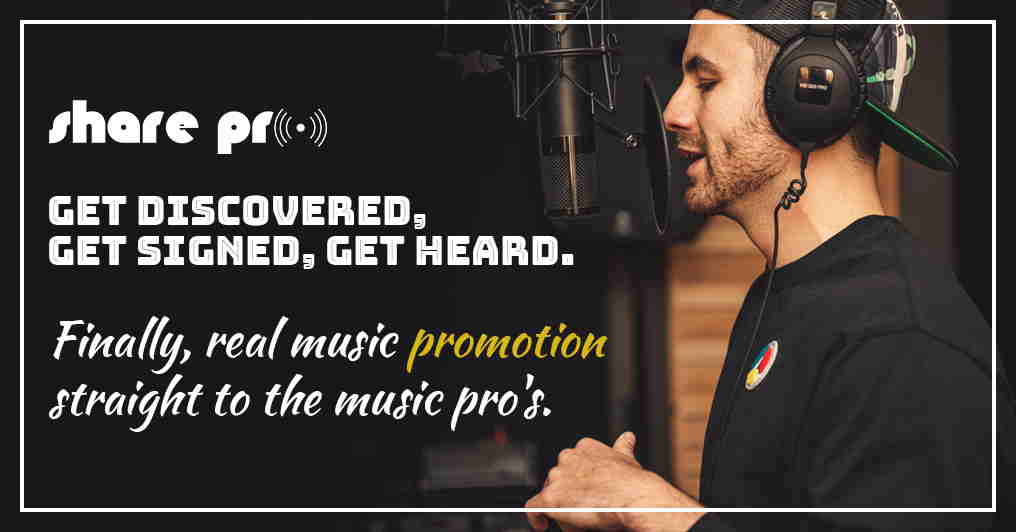 If your music resonates with a tastemaker, you might have an easier time cracking national radio stations. These tastemakers have the ears of top music executives, bloggers, and producers who can help you get your song on the radio.

While you are networking with tastemakers, always work on your local game. Grassroots is the way to go for independent musicians to grow their following. Submit music to college radio stations and internet radio networks. Every play is one more chance to create a lifelong fan.

Music
Indie Recording Artists
Tips & Strategy
Radio
Internet Radio
Radio Promotion
How To